Opening Hours: Wednesday – Sunday, 11:00 am to 6:00 pm.

Get your online tickets here. You can also buy your tickets at the ticket counter in the museum.
Covid-19-regulations: No negative proof is needed anymore. We kindly ask visitors over 6 to wear a medical mouth-nose-protection.
New: Explore the museum with our free English audio guide! Spanish and French audio tours are available, too.
We moved to the new Old Town!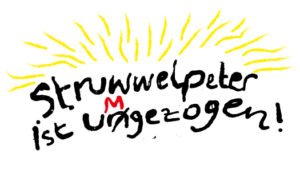 Hinter dem Lämmchen 2-4
60311 Frankfurt am Main
Phone.: +49 (0)69 9494767400
info@struwwelpeter-museum.de
Sponsored by the City of  Frankfurt am Main
www.kultur-frankfurt.de